Mounting Systems
GENERAL INSTALLATION ROOFTOPS/GROUND
Mounting structures are designed to hold suitable number of modules. The frames and leg assemblies use hot dip mild galvanized
steel of suitable sections. Hot dip galvanized steel nuts and bolts are used.
The legs of the structures are fixed in the foundation columns as per design based on site condition. The minimum clearance is maintained between lower edge of the Modules array and Rooftop level. Due consideration is given to weight of modules assembly, maximum wind speed, Seismic factors for the site.
---
TILE STRUCTURE FOR ROOFTOPS
The required numberof modules are placed on the ground level horizontally, in a series.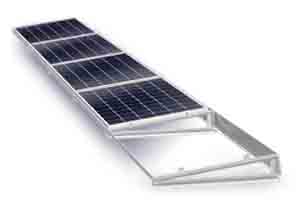 The structure frame does not have a leg assembly and is made of mild steel hot dip galvanized or any other section confirming to IS 2062. Hot dip galvanized steel nuts and bolts are used.
The structure is designed in such a way that it will occupy minimum space, with allowance for easy cleaning without sacrificing the output from Solar panels.
---
RAILS STRUCTURES FOR INDUSTRIES AND SHEDS
The Solar Panel Structure Assembly ('Rails')
are drilled along the points where existing sheet is drilled with columns. The rails take the weight of Solar Panels. The Solar Panels are then fixed onto rails with clamps at joints. The rails are made of Stainless Steel or HQ MS Galvanized or aluminum.
Sufficient distance is maintained from the roof surface for adequate PV module cooling. Pre galvanized steel rails (Cold roll-formed pre galvanized steel, quality of steel equivalent to BSEN 10326:2004 S320GD, EN 10147) are used.
---
CUSTOM/TAYLOR MADE INSTALLATIONS
We also execute the following tailor made installations
:
A) RAISED INSTALLATION:

Solar Panels can be erected in line and an elongated structure can be created for mounting the panels on a raised shed which can be used as a Car park or walking pathway. This Architecture innovative solution combines solar application and a parking/walkway solution, providing shade to vehicles & producing electricity at the same time. The structure offers multiple design choices suitable for different type of buildings and areas using integrated cable ducts, integrated water ducts, and inverter switchboard.
---
B) VERTICAL INTEGRATION
The solar panels can also be used on the building facades of the building.
This is a product with undeniable aesthetic value and unbeatable in terms of heat insulation that generates free electricity from the sun.Depending upon the orientation of the façade, building location, and the photovoltaic technology implemented, the electricity produced by our system in just one square metre can vary between 20-40 kW/h per annum; sufficient energy to supply up to 10,000 hours of light from 20W energy saving light bulbs.
---
C) BUILDING-INTEGRATED PHOTOVOLTAICS (BIPV)
These are transparent panels and are most commonly placed on building facades and rooftops. These Solar Panels are used to replace conventional building materials in parts of the building envelope such as the roof, skylights, or facades. They are increasingly being incorporated into the construction of new buildings as a principal or ancillary source of electrical power, although existing buildings may be retrofitted with similar technology. The advantage of integrated photovoltaics over more common non-integrated systems is that the initial cost can be offset by reducing the amount spent on building materials and labor that would normally be used to construct the part of the building that the BIPV modules replace.
---
* Solar Electrical Technologies reserves the right to make specification changes without prior notice. Please contact us to obtain the latest specifications.
Go Back to Products Page